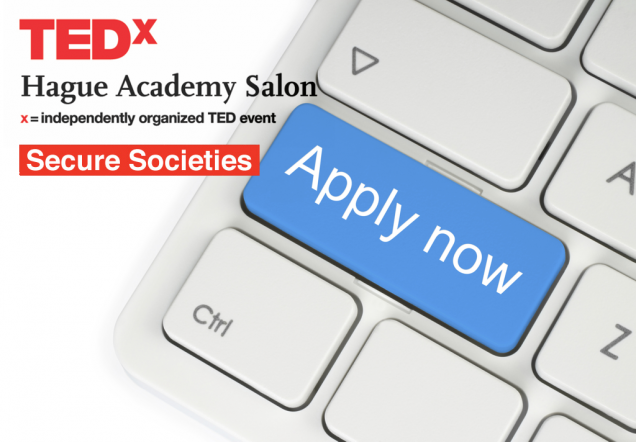 18-02-14
Would you like to be in the audience at TEDxHagueAcademySalon Secure Societies on 19 March 2014? Now is the time to apply, because seating is limited.
What is a secure society? How do we make a society secure?
We're offering the chance for you to hear four inspiring speakers with ideas worth spreading on this crucial issue of our era. Plus six punchy pitches with bright ideas on security. And you'll be able to make your views matter in the debate.
We're looking for people who will make the most of this great opportunity. People who are keen to engage and interact. We'd like our audience to join in the discussion, put forward their own perspectives, and spread the word about this event and TEDxHagueAcademy.
You can be assured that a TEDx event provides the kind of forum that means your contributions will count. If you're keen to be there, imagine the people you could meet who will share your enthusiasm. And what's more, you can look forward to a great evening of entertainment with delicious food!
We don't want your money, just your passion to be present – tickets are free. We just need you to convince us why you need to be there.
How to apply
Tell us in 100 words or fewer why you would like to attend and what assets you would bring as an audience member.
Send your e-mail to info@tedxhagueacademy.org no later than Monday 3 March 2014. If you've been selected, we'll let you know by Friday 7 March and send you a programme.