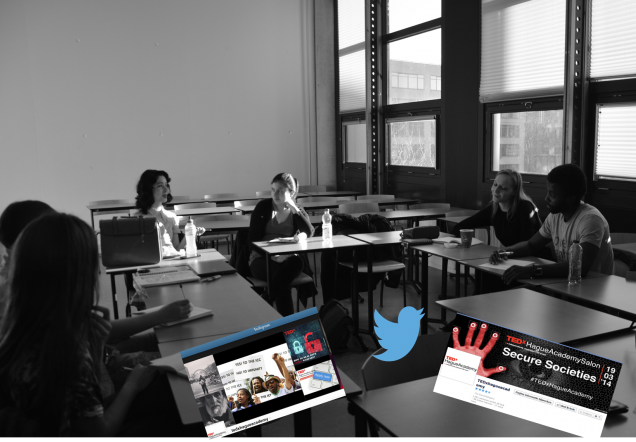 Wednesday, February 26, 2014 - 11:42
Have you checked on our social media channels? No? You should! We have a great group of volunteering students working behind the scenes. They're posting, sharing and discussing. And they belong to the Secure Society generation.
It's Friday, 16:15, a time when many Dutch people are getting ready to leave the office or have a first beer. A young, energetic, international group of students is meeting at The Hague University.
They're volunteers discussing the social media strategy for our Salon event on Secure Societies. They'll be spending the next four weeks posting, sharing and enhancing discussion via Facebook, Twitter, Instagram and Flickr.
Excitement in the air
So what it is that drives these students to spend their free time doing social media for this event?
The strange thing is when you enter the room you feel it immediately. There's excitement in the air. It's about discussing politics. It's about discussing the next posts, asking questions, searching for relevant topics, talking through the do's and don'ts. Some are reflecting on their last posts and how excited they got when people actually engaged and started discussions on Facebook. In fact, they are having a hard time to sit still.
It's clear they feel engaged by a topic that matters to them: Secure Societies. What I picked up during the discussions. There is a feeling that they belong to a generation born into societies that are dominated by security more and more every day. And they have an urgent need to talk about it. 
Bearing fruit
"I enjoy doing social media because it's the easiest way to connect people and share important things," says Hajar, one of the volunteers. "For example, states might censor content, but social media still makes you aware of it."
 "It's a lot of work and it takes a while to get the ball rolling, but it's for the purpose of a great event," says David Suswa of The Hague University, who is coordinating the team.
And their work is bearing fruit. When I got home and opened my laptop, I could see another 140 fans had liked our Facebook page. I also saw new pictures on Instagram: strong pictures, pictures that matter to these students who are passionate to talk about Secure Societies.